Home
GW Law Exists to Make an Impact on the Law and the World
Today, GW Law prepares students with the theoretical and practical knowledge to view the law in an increasingly global context. With an extensive curriculum, a faculty of well-respected scholars and practitioners, high-quality externship opportunities in the nation's capital, robust mentorship programs, and an emphasis on professionalism and career development, we assist students in exploring the law in depth and finding their own place within it.
Our Impact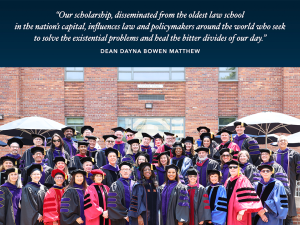 A Celebration of Faculty Scholarship
September 28, 2023
This bibliography includes entries for works by full-time faculty and deans of the George Washington University Law School published between 2020 and 2023.