JD Admissions
Thank you for your interest in applying to the George Washington University Law School! Located four blocks from the White House, three blocks from the U.S. State Department, and across the street from the World Bank and International Monetary Fund, we are truly in the heart of Washington, DC. Working with our dynamic faculty and engaged alumni, we strive to create personal pathways to help our students achieve their goals. Feel free to stop by to say hello and take a tour. We look forward to meeting you and reviewing your application.
Contact us at 700 20th Street, NW, Washington, DC 20052 | [email protected] | 202.994.7230
Meet Our Student Ambassadors 

Selena Everitt is a 2LE from Miami, FL. She graduated from Florida International University with a BA in Political Science. Selena currently works in higher education here at GW's School of Business. Selena is interested in public interest work, such as international law, foreign relations, appellate litigation, and criminal law. She is a member of the Moot Court Board, Law Association for Women, International Law Society, Evening Law Student Association, and the Disability Applications Pro Bono Project.

 

Calsy is a 2L from Lake Zurich, Illinois. She attended Purdue University and graduated in 2019 with a BS in Economics and a concentration in International Business. Calsy's undergraduate work experience included work in private wealth management, behavioral economics, and European Union policy. She spent a year between her undergraduate studies and law school working for Walt Disney World in Orlando, FL. At GW Law, Calsy is a member and student editor of the International Law Review and the Guide to International Legal Research, as well as a member of the International Law Society, the Student Intellectual Property Law Association, the Law Association for Women, and Street Law. She spent her most recent summer working with a start-up company, NineTwelve, and will spend this Spring working with the U.S. Securities and Exchange Commission and this Summer as a summer associate with Goodwin's Washington, DC office. Calsy is looking forward to continuing her time at GW Law focusing on corporate law and international law with interests in private equity, M&A, and data privacy.

 

Jasmine is a 2L from Orlando, FL. She graduated from the University of Central Florida in 2021 with her degrees in Political Science and Legal Studies. Jasmine is a member of the ADR Board and the International Law Review. At GW, she serves as the President of the Space Law Society and on the Executive Board of the International Law Society. During her 1L summer, Jasmine worked at the Department of Justice in their Aviation, Space, and Admiralty Civil Litigation section. This fall she is looking forward to her Clerkship with the Department of Homeland Security in their National Security Law Division. In her free time, Jasmine enjoys fostering cats, cooking, reading, and exploring DC.

 

Jessica Shelnutt is a 2L from Peachtree City, GA. She graduated from Georgia Tech with a BS in Biochemistry and was a consultant with Clarkston Consulting before coming to law school. Jessica is pursuing a career in the intersection of space law and national security and is a part of the National Security and Foreign Relations concentration. At GW, she is a part of the GW Law Review, Military Law Society, Space Law Society, National Security Law Association, Mid-Atlantic Innocence Project, Law Association of Women, and tutors for 1L classes.

 

I am originally from St. Louis and graduated from GW with a BA in Political Science and Public Policy before continuing on to law school here. In addition to my work with the Student Ambassadors, I'm an Articles Editor for the George Washington Law Review and a member of the Alternative Dispute Resolution Skills Board. I have also externed at the U.S. Securities and Exchange Commission and the District Court of Maryland through the Field Placement Office. This summer I worked at Goodwin Procter in NYC, and will return there after graduation as a Litigation Associate.

When I'm not on campus, you can usually find me hanging with my cats, wandering around the Hirshorn Museum, rock climbing, watching NHL games, or enjoying French toast at The Diner in Adams Morgan.

 

Alex Smyrnios is a 3L from Shrewsbury, MA. She attended Boston University where she received a degree in Business Administration and Management with a concentration in Law and a minor in Political Science. At GW, Alex is the President of Tours and Events for the Student Ambassadors, a Notes Editor for the American Intellectual Property Law Association Quarterly Journal, and a member of the Corporate and Business Law Society, Student Intellectual Property Law Association, Sports and Entertainment Law Society, and Law Association for Women. She has interned at Lee/Shoemaker PLLC, Vox Media, and the Federal Communications Commission. In her free time, Alex enjoys watching musicals, listening to Taylor Swift, and walking around DC.

 

Katya is a 2L from Springville, UT. She graduated from the University of Utah with a BA in Communications and a minor in Theatre. Prior to law school, she worked in marketing. She is interested in trademark and copyright law and is working towards the Intellectual Property emphasis. At GW Law, she is involved with Student Ambassadors, Student Bar Association, American Intellectual Property Law Association Quarterly Journal, Alternative Dispute Resolution Board, Mock Trial Board, Writing Fellow, Student Intellectual Property Law Association, and tutors for 1Ls. Last summer she was a legal intern for Judge Jordan on the Third Circuit Court of Appeals and in addition to IP is interested in pursuing a federal clerkship after graduation.

 

 
New & Now at GW Law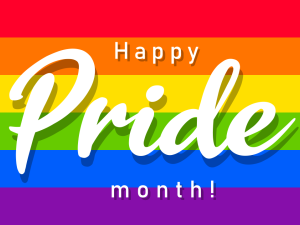 GW Law Celebrates Pride Month
June 1, 2023
Pride Month is a dedicated time and opportunity for the GW Law community to celebrate love and honor the 1969 Stonewall uprising in New York City.