Mid-Atlantic Regional Clinical Conference
February 3, 2023 - February 4, 2023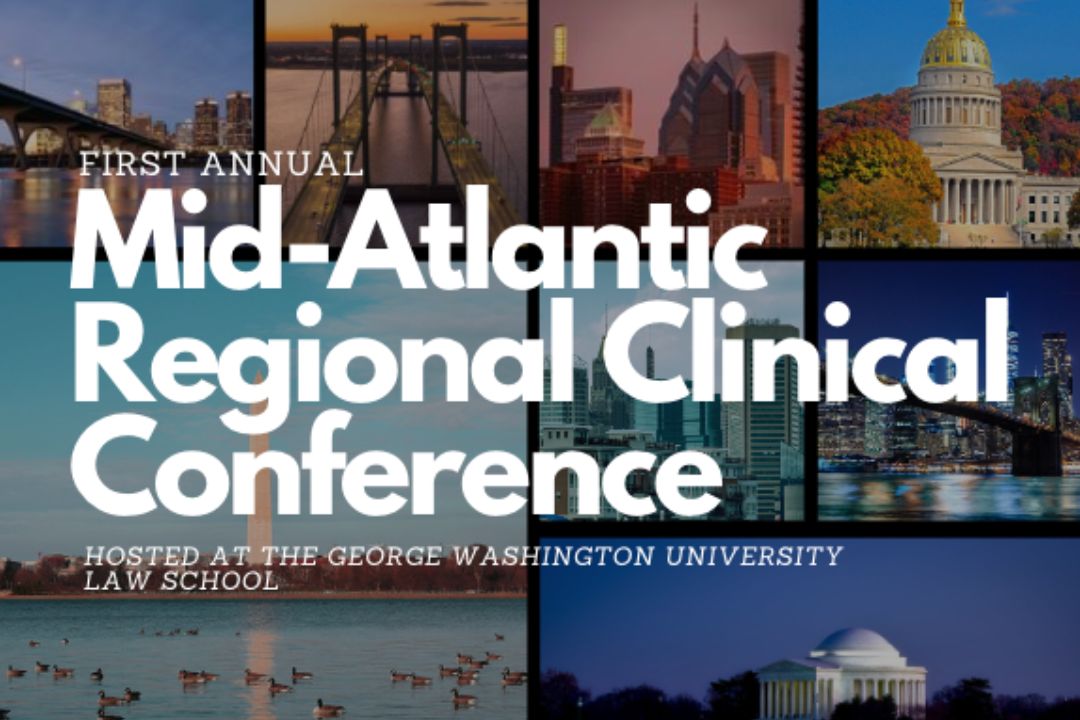 Please join GW Law and all of our regional partners for the First Annual Mid-Atlantic Regional Clinical Conference. The theme of the conference will be Navigating Uncertainty in a Shifting World. These last few years have shown us little predictability other than that life is unpredictable. As teachers, lawyers, and human beings, we have tried to navigate uncertainty – the Pandemic, assaults on our democracy, loss of fundamental rights, and other tumultuous challenges – while providing some solid ground for our students, our clients, and ourselves. We will be coming together to reflect on how we responded to these challenges and to consider how to move forward because the challenges are not going away.
The Conference will take place on Friday, February 3, 2023, and Saturday, February 4, 2023, at the George Washington University Law School. We are so pleased to announce that the keynote address will take place at dinner on February 3, 2023, and will feature Verna Williams, the CEO of Equal Justice Works. The events will begin on Friday evening with cocktails and dinner. Programming will continue on Saturday and the Conference will end with a cocktail reception at Georgetown Law on Saturday evening.
The Conference registration fee will be $125 per person. Please contact us if you seek a fee waiver. Registration will open in December and closes on January 18.  
We seek proposals for concurrent sessions related to the conference theme; teaching spotlight sessions; works in progress; and early-stage incubator scholarship presentations. We also ask for volunteers to serve as commentators on works-in-progress. We encourage everyone to propose some kind of session or involvement so we can have a variety of ways to interact with each other and discuss topics of importance and interest to us all. Junior faculty and fellows are especially encouraged to lead sessions and present papers. Please fill out this form and upload your brief proposal descriptions. The deadline for proposals is December 12, 2022.
Out-of-town guests are invited to reserve at the Courtyard Marriott Foggy Bottom at a group rate of $178 or at any of the other local hotels at their standard rates: Watergate, Hive Hotel, Yours Truly, or the ARC Hotel.
We invite our regional community as well as clinicians from across the country to join us for this regional conference, both because we are entirely unsure what the Mid-Atlantic really is and because we want to see and discuss these topics with you.
If you have questions, please contact Dean Laurie Kohn, GW Law Clinics.